Oliver
34, Cologne
Style Development Sessions (focus: business styling)
Wardrobe Deep Dive
Oliver decided to work on his wardrobe at a very important time in his life, he was moving into a leading position and wanted his clothing to communicate well on his behalf, to make a certain statement. Pretty clear focus point, isn't it? Although Oliver was very conscious about his aesthetical preferences and had a developed sense of style already, the questionnaire and our first meet revealed that he didn't necessarily have an overview of what was going on in his closet. For best results we decided to combine 2 services: Style Development Sessions with focus on business styling and a Wardrobe Deep Dive.
Business Styling Sessions
All Style Development Sessions 'not depending on the focus' are closely related to the psychology of self-image. But it goes a lot deeper than just the perception of what you see in the mirror. Self-image refers to how we see ourselves on a more global level, both internally and externally. The 3 elements of self-image include:
the way a person perceives or thinks of himself/herself

the way a person interprets others´ perceptions of himself/herself

the way a person would like to be seen
Business styling sessions are very much linked to understanding these 3 core elements. Oliver completed several self-image exercises with a business focus (although you can imagine it is still strongly connected with other areas of his life). Step by step we got deeper into understanding what was essential for him to communicate with the visual appearance. Well, I hope you understand, but due to data protection reasons, I am not going to describe all our self-image findings. But let me show you an outfit board, aligned to his big vision.
TIMELESS YET MODERN.
SERIOUS YET CREATIVE.
RELIABLE YET OPINIONATED.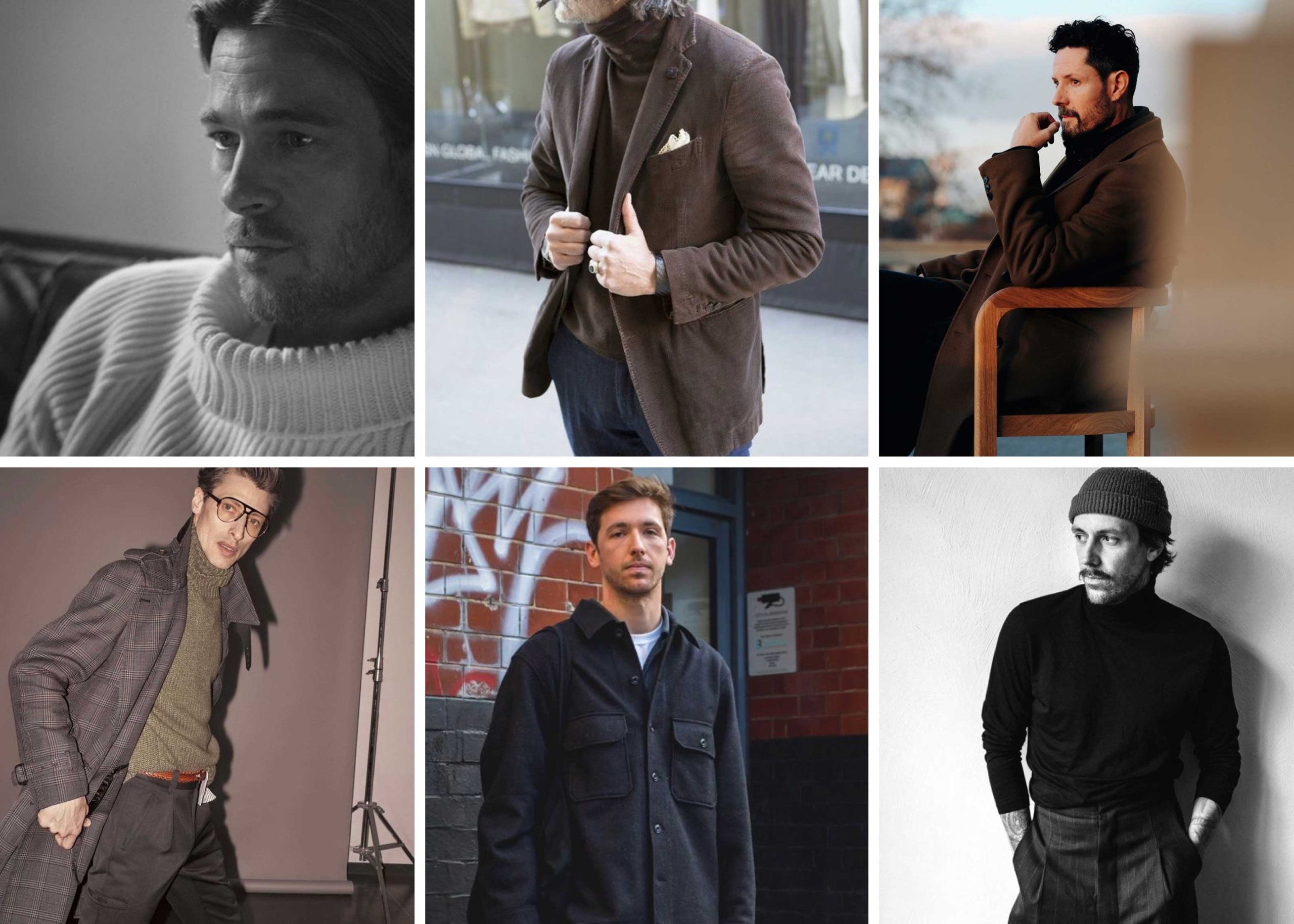 Wardrobe Edit/Project
As I mentioned before Oliver has always been quite style conscious and concerned about the quality of his clothes, so we were able to find some great pieces in his wardrobe: basic chinos, a form-holding white T-shirt, timeless longsleeves, etc.
These pieces provided a great base indeed, however, we still needed to compliment them with some unifying pieces and those that match Oliver´s self-expression goals. Mid-length classic wool coat, black leather boots, brown vintage-style rucksack, beige cashmere jumper to balance out the darkness. Anyway, I think the visualization of the wardrobe describes it better than words: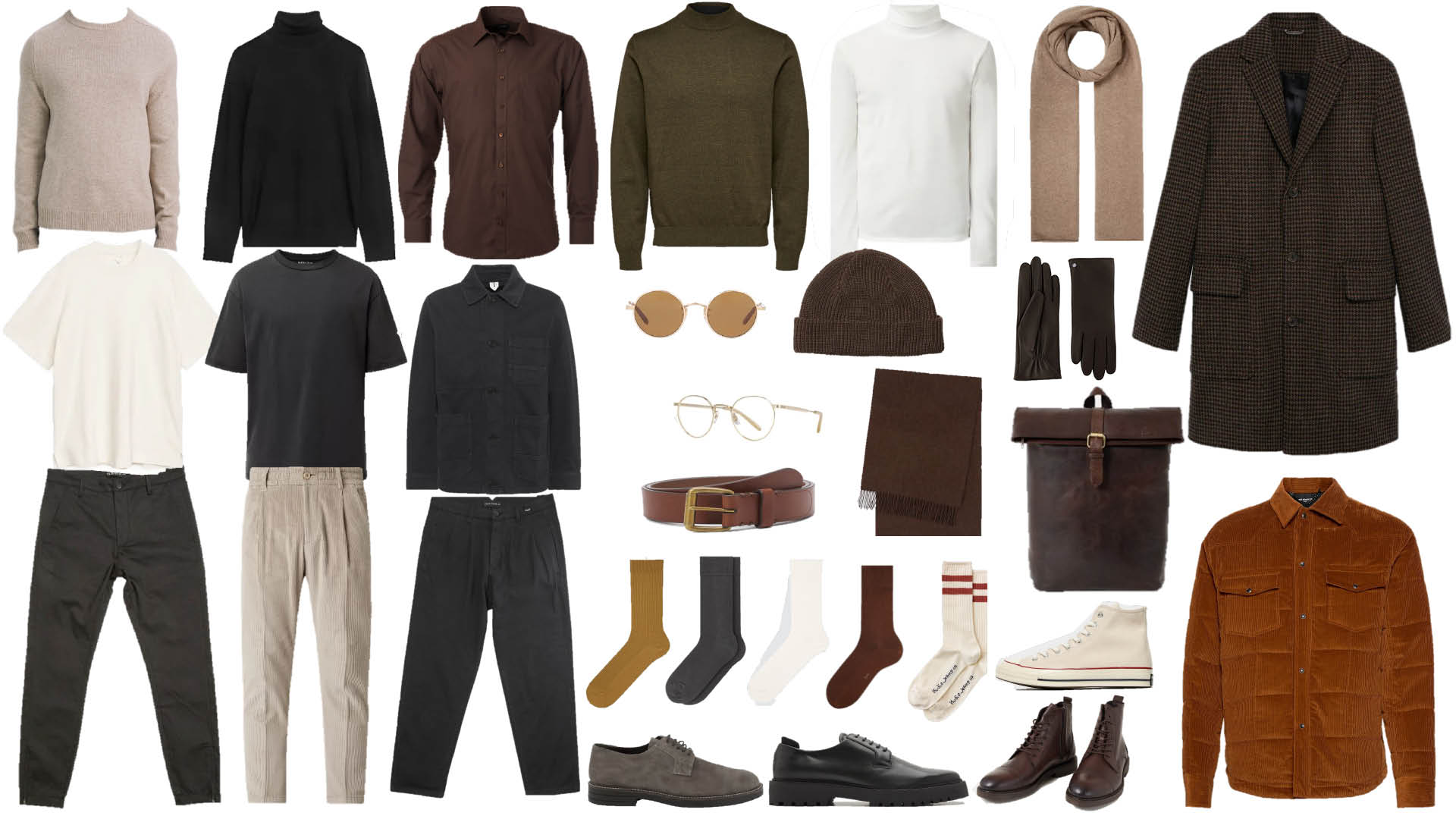 Wardrobe Strategy
May I share with you a couple of thoughts about the wardrobe strategy, that was chosen? Oliver needed clothes that could be easily matched, so he could easily create many outfits from a few pieces. He wanted to save time and energy. Less is more – fewer items, more outfit combinations. Sounds like … yes … a capsule wardrobe! You´ve probably heard of it before, but for those of you who haven´t – a capsule wardrobe is a limited selection of interchangeable pieces that complement each other. There are some obvious benefits to this approach like less decision fatigue, more sustainability, and as mentioned before … it really does save time. Below are some examples of Oliver's outfits (btw, we ended up having more than 60 outfit variations):
Conclusions & Review
Oliver was one of those rare clients with whom it was possible to speed up the work, as he had a very clear vision and goal in mind, was style-conscious and open-minded. I was pleased to learn that we not only successfully adopted his wardrobe to his new leading position and created a long-term wardrobe strategy, but also found new ways for self-expression, which he uses on a regular basis now. Well … time for his review:
"Thanks for helping me add more structure into my closet – I´ve never thought that we could create so many outfits with few items. Although I am interested in style and I care about my appearance, it has never been possible for me to go deeper and sort my thoughts in time. Thanks to your help, I can now see more clearly which style and which form and materials suit to my personality and to my body. And one more important thought I love my clothes now. Cheers!"